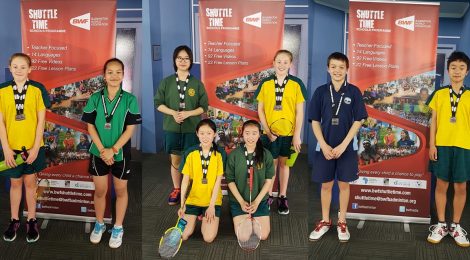 THREE INTERMEDIATE SCHOOLS SHARE WINNERS PODIUM
The Shuttle Time North Harbour Intermediate Zone Day has concluded for 2017 with three schools sharing the winners podium.
With over 120 players entered, the level of play was excellent and sportsmanship outstanding.  Thank you to all teachers, sport managers, sport co ordinators, parents and most of all the players who represented their schools.
Winner 
Runner Up
Boys Singles
Chris Benzie
(Northcross)
Justin Kim
(Murrays Bay)
Boys Doubles
Justin Kim/Richard Lin
(Murrays Bay)
Kenneth Huang/Leo Yang
(Murrays Bay)
Girls Singles
Jessica Zeng
(Takapuna)
TJ Rusden Rowley
(Murrays Bay)
Girls Doubles
Natania Ling/TJ Rusden Rowley
(Murrays Bay)
Lydia Chu/Jessica Wang
(Murrays Bay)