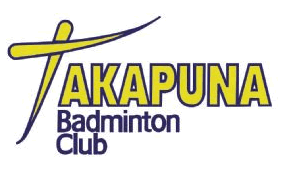 Takapuna Badminton Club is a senior club who meet on Tuesday evenings and Sunday mornings at the Bartercard BNH Centre. On Tuesday evenings, we play from 7:00 pm – 10:00 pm and on Sunday mornings, we play from 10:00 am – 12:00 pm.
Fees:
Senior (High User)

$280
Senior (Regular)
$140 + $5 per session
Student (High User)

$220
Student (Regular)
$140 + $5 per session
Visitors Fee

$15 (Tuesday night) *
$10 (Sunday morning) *
* Visitors who become a member after attending at least two sessions as a visitor will get those two sessions deducted off their membership fee.
Contact:
Dorothy Callister
Phone: (09) 410 8659
Email: callisterdorothy@gmail.com